JIMMY FALLON AND JIMMY KIMMEL TRADED SHOWS FOR APRIL FOOLS DAY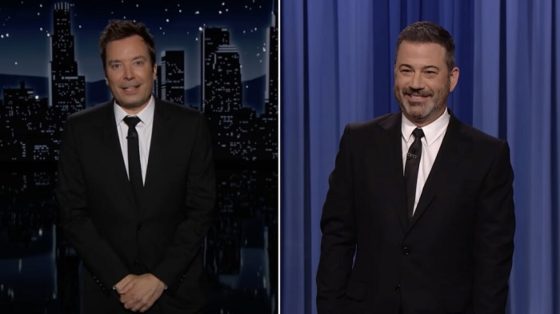 Jimmy Kimmel and Jimmy Fallon pulled off a great April Fools' Day prank on Friday, when they traded shows. Kimmel hosted the "Tonight Show", and Fallon hosted "Jimmy Kimmel Live". Fans at both shows had no idea it was happening until the hosts appeared onstage. After their respective monologues, the Jimmies did a live check-in. They even swapped signature bits (Fallon did "Sweet Tweets", a nicer version of Kimmel's "Mean Tweet", and Kimmel did "Thank You Notes"). The Red Hot Chili Peppers were the musical guests for BOTH shows.
Both Jimmies came up with the idea to swap shows for April Fools in 2020. They said it sprang from all the times fans confuse the two.